Preparing & Installing Cedar
Be sure to acclimate the siding before installation. The time required depends on your local humidity. Kiln-dried cedar needs seven to ten days to acclimate at the job site.
! Stack two boards of siding face to face. " Use scrap wood to get the boards off the ground and sep- arate them allowing air to freely circulate throughout the siding.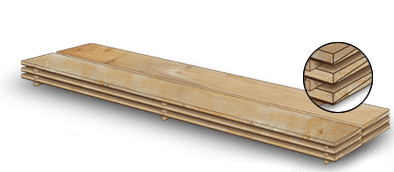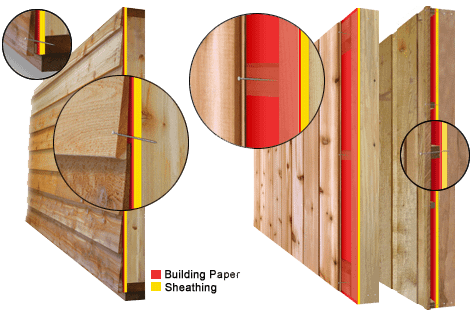 Channel siding should be fastened like T & G, always nailing into furring strips or studs. As needed, trim the edges of the first and last boards to ensure a tight, flush, and uniform finish. Ensure nails penetrate 1-½" into solid wood and inline with T & G, face-nail only. Leave enough distance between the nails of one piece and the next to allow the cedar to contract and expand. Start at one corner with a channel edge toward your right. Use pattern 105 for horizontal applications, starting at the bottom and working up with the channel tongue facing upward. Face-nail as described above.
Butted joints should be mitered and placed over studs. Fit them snugly to other pieces, trim, and flashing. All ends should be caulked. See close-up detail. Note the 1/8" air space.
Only proper wall construction and siding installation can prevent water from seeping behind the siding into wall and roof spaces. Where the roof meets the siding and trim, always use the flashing to direct water away from areas not intended to be exposed to water.
Keep trim and siding at least 1" above the roof to avoid wicking. The photograph shows a metal roof that meets the siding. Note that the metal roof is bent up to go behind the siding. For shingle roofing, the flashing goes behind the siding and allows water to drain on the shingles. Flash above doors and windows and where different materials meet. Tilt flashing so water drains away from the wall. Do not caulk where flashing and trim meet. Never use caulking in place of flashing. For ground-floor skirt boards, flash above them and keep them at least 6" off the ground. For second-floor applications, flash above and below windows and band boards. Flash facia boards to prevent water from getting underneath roofing shingles or behind soffits and facia boards.